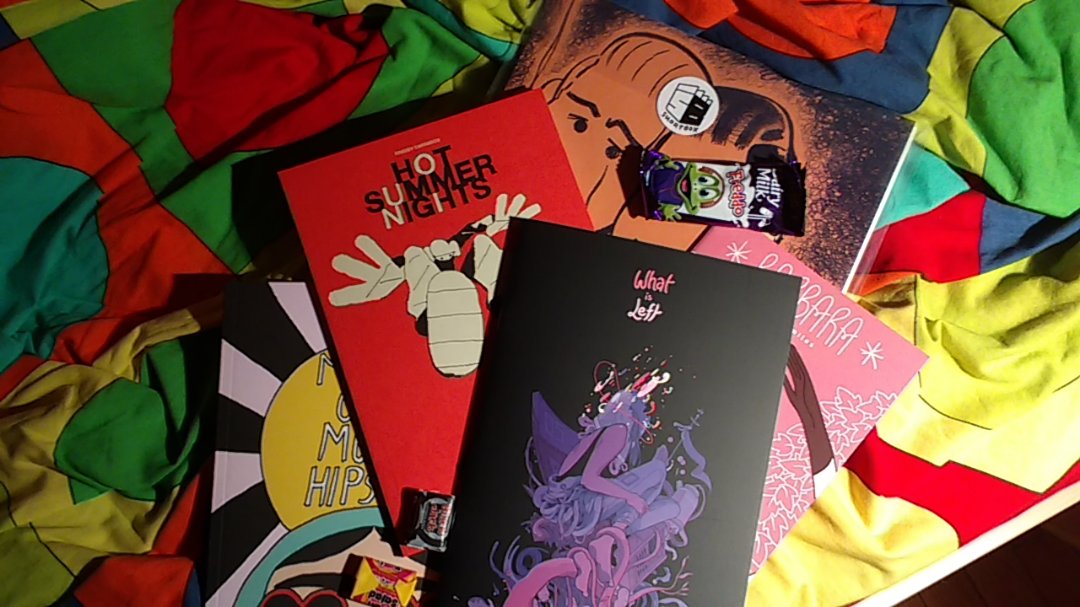 I ordered a shortbox! Here is a review of everything in it!
The candy: there was a "fruit-salad flavored" square thing that tasted like every single starburst mashed together. Terrible.
a black licorice flavored square that was far more licorice than I ever cared to taste. Also terrible.
a milk chocolate frog thing that was like a hershey kiss but larger, so also terrible.
British candy is a disappointment.
BUT ON THE BRIGHT SIDE, THE COMICS WERE GREAT!
I ordered the Shortbox for Rosemary Vallero-O'Connell's What is Left because I love everything she's ever made, she's amazing, god bless Rosemary V-O. I was not disappointed! It's beautiful–the colors are limited to pinks and purples, and the story is clear despite the nonlinear narrative. It is sad and made me sad but it's okay because it is beautiful. You can feel the yearning, the pain of talking to someone who can't hear you, of falling for someone who no longer exists. I did spot a few typos though.
Barbara by Nicole Miles was interesting. I like the idea of personifying a cactus, and I've never really seen veganism framed in such a nonagressive way. That one vegan girl in my high school class was always very…militant about it. I haven't really thought so much about how other people treat vegans/vegetarians, and I'll probably think more about how I react to this subject in the future.
Hot Summer Nights by Freddy Carrasco was pretty visually striking, but it was hard for me to tell what's going on or tell the character's apart. Not my kind of thing.
Musings of a Muslim Hipster by Areeba Siddique was also not really my kind of thing. That sort of graphic, sharp style reminds me of rookiemag and ban.do products, and to me it works best as prints and patterns and stickers, not as pages of a book. I was expecting a single narrative comic instead of a collection of stuff, but the stuff was interesting and I did learn some things.
The Pit of Tar had a lot more text than I thought it would, but I love the soft pencil art style a lot. The story is depressing, but intriguing. I have a soft spot for old hollywood things.
I really enjoyed all these things except the candy, and I may order another shortbox someday! But it was kind of expensive so idk maybe.